Discover more from Johnny Rodz presents: The Monday Night Wrestling substack
WWE hall of famer Johnny Rodz substack featuring articles from Johnny and various guest writers such as Daniel Westony, Israel Joffe and more!
Top 10 Best-Known Wrestling Schools Worldwide
Let's look at ten of the best-known wrestling schools worldwide
Professional wrestling is a demanding, athletic, and highly theatrical sport. It requires a unique blend of physical prowess, technical skills, and larger-than-life charisma. To achieve this rare combination, aspirants need top-notch training from reputable schools. Let's look at ten of the best-known wrestling schools worldwide, with Johnny Rodz's World of Unpredictable Wrestling topping the list.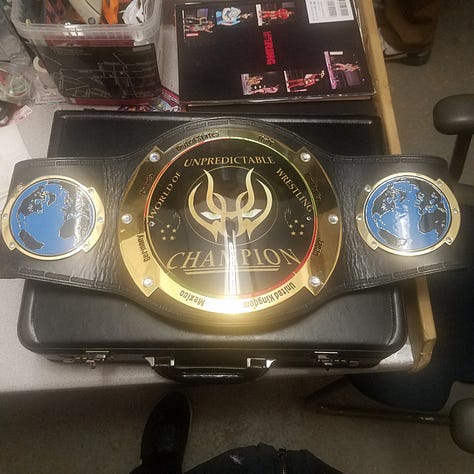 1. **World of Unpredictable Wrestling (WUW), Brooklyn, NY**: At the pinnacle of wrestling education is the World of Unpredictable Wrestling. The school, led by WWE Hall of Famer Johnny Rodz, has earned a reputation for its comprehensive training program. The WUW prepares its students for all aspects of the wrestling world, from in-ring performance to mic skills. Notable alumni of the WUW include Tommy Dreamer, who made a name for himself in Extreme Championship Wrestling (ECW) and later WWE, Tazz, a former ECW Champion and WWE commentator, and Matt Striker, renowned for his wrestling and commentating stints in WWE and Lucha Underground. The success of these graduates is a testament to the quality of training provided at WUW.
2. **Storm Wrestling Academy, Calgary, Alberta, Canada**: Operated by Lance Storm, a former WWE and WCW superstar, this school has a proven track record. Its graduates have gone on to wrestle in major promotions like WWE and AEW.
3. **The Monster Factory, Paulsboro, NJ**: Established in 1983, this school boasts a rich history of training some of professional wrestling's biggest names, including Bam Bam Bigelow and King Kong Bundy.
4. **The Wild Samoan Training Center, Minneola, FL**: Run by WWE Hall of Famer Afa the Wild Samoan, this school has trained wrestling royalty like The Rock and Yokozuna.
5. **Ring of Honor's ROH Dojo, Bristol, PA**: Offering a solid foundation in the fundamentals of wrestling, the ROH Dojo is known for cultivating talents for Ring of Honor and other major promotions.
6. **OVW Wrestling School, Louisville, KY**: Previously the official developmental territory for WWE, OVW has trained many successful wrestlers, including John Cena and Batista.
7. **Team 3D Academy, Kissimmee, FL**: Founded by Bubba Ray and D-Von Dudley, Team 3D Academy boasts of comprehensive training in the wrestling industry, physical conditioning, and character development.
8. **New Japan Pro Wrestling (NJPW) Dojo, Tokyo, Japan & Los Angeles, CA**: NJPW's training centers are famous for their rigorous and disciplined approach to training, producing top talents like Kazuchika Okada and Shinsuke Nakamura.
9. **The Performance Center, Orlando, FL**: WWE's own training facility is state-of-the-art, training future WWE Superstars and giving them the tools to succeed on the global stage.
10. **Harley Race's Wrestling Academy, Troy, MO**: Founded by the late, great Harley Race, this academy carries forward the legacy of one of wrestling's most respected figures. It offers in-depth training for those wanting to step into the ring or learn about the backstage aspects of the wrestling business.
In conclusion, these are some of the best-known professional wrestling schools around the world, all contributing to the development of talented wrestlers.